Russians enjoy dream World Cup opening despite Robbie Williams' middle finger
The first day of the 2018 World Cup went off almost without a hitch for the hosts, Russia, with a barnstorming victory after a brief but polished opening ceremony which even a rude gesture by Robbie Williams could not derail.
The biggest worldwide event held in Vladimir Putin's Russia began with a contest between the two worst teams in the competition on paper. But Russia, who were without a victory in seven games, exceeded expectations as they dismantled a hopeless Saudi Arabia defence to win 5-0.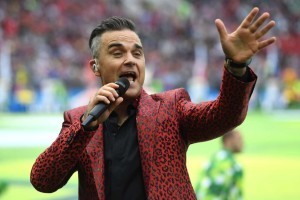 Eight years and about £11bn has been spent preparing for football's showpiece and inside the Luzhniki Stadium it felt as if organisers had struck the right note, with enthusiastic fans and well-drilled stewards. The result helped, too, with a fifth goal seconds before the final whistle which had even Putin rolling back in his seat and puffing his cheeks in disbelief.
Given the enormous budget of this World Cup, the opening ceremony was a relatively low-key affair with the British pop star Williams a surprise headline act. He had almost finished performing his hit Rock DJ when he raised his middle finger to a TV camera, provoking widespread outrage and no little confusion.
It was not obvious what the 44-year-old meant by the gesture but he is known to be a campaigner for LGBT rights and was heavily criticised for accepting the invitation to perform in a country known for its outdated stance on gay people. Putin was in the stadium but had not yet taken his seat.
Just 15 minutes before kick-off the Russian president was driven in a convoy of cars with blacked out windows into an underground space beneath the 81,000-seat stadium. Large swaths of the crowd burst into a spontaneous chant of "Vladimir, Vladimir". When Russia won the right to host the World Cup eight years ago the Russian president possibly expected it to be an opportunity to ingratiate himself with the international community. The aims have changed drastically since then, with Russia's involvement in wars in Ukraine and Syria, allegations of meddling in foreign elections and one of the biggest doping scandals in sporting history. But it was clear this tournament will not harm his popularity in his own country.
Read the rest at: https://www.theguardian.com/football/2018/jun/14/russia-dream-world-cup-opening-robbie-williams-finger
Related posts: