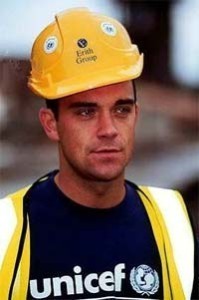 Robbie Williams was involved in the following charities:
UNICEF
21st Century Leaders
Caudwell Children
ChildLine
Comic Relief
Give It Sum
Help for Heroes
Jeans for Genes
National Society for the Prevention of Cruelty to Children
Nordoff Robbins
Scope
Sport Relief
WAVE Trauma Centre
Whatever It Takes
Soccer Aid
Soccer Aid was devised and co-founded by Robbie and UNICEF UK in 2006 to raise funds for UNICEF to help the world's most vulnerable children. Taking place biannually, the event pits England against the Rest of the World in a match that sees footballing heroes, Hollywood A-listers and the UK's most famous faces come out to play.
With three victories under their belt, England suffered their second defeat at the hands of José Mourinho's RoW side at the fifth Soccer Aid on Sunday, 8th June 2014, but with over £4.2m raised at the final whistle and more donations pouring in, everyone was a winner on the night.
Unicef
Robbie Williams was introduced to Unicef UK by the late Ian Dury, himself a Unicef Special Representative in 1998, when they travelled together to Sri Lanka to see Unicef's work.
In 2001, Robbie became a Unicef UK Ambassador and has continued to be a passionate supporter ever since visiting Unicef's work on HIV and AIDS in Mozambique and South Africa, and fronting Unicef's Unite for Children, Unite against AIDS campaign.
Robbie is also the mastermind behind Soccer Aid. These football matches feature two teams of celebrities and football legends: England vs. The Rest of the World. They have raised millions of pounds to support Unicef projects for children around the world.
In the aftermath of the earthquake in 2010 Robbie travelled to Haiti to see Unicef's work and to make an appeal film for vital funds. In 2012, Robbie travelled to Mexico City to make a short film for Soccer Aid 4 on how Unicef is working with vulnerable children living in slums and on the streets.
Robbie returned to Soccer Aid in 2014 for its fifth edition as the coach for the England team. The match proved to be the most successful so far, raising over £5.3 million in aid of children around the world.
(source: robbiewilliams.com and unicef.org.uk)