Robbie Williams backs Take That's new single & Gary Barlow, Howard Donald & Mark Owen lineup!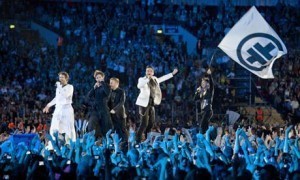 Robbie Williams has shown that there are no hard feelings between him and his old Take That pals, as he promoted the band's new single this week. The Candy hitmaker opted not to return to the band when they began recording their new album earlier this year, revealing that he wanted to concentrate on his own tour and he and wife Ayda's new addition to the family. Robbie's wife is pregnant with their second child and it seems he'd rather not tour a new album next year while his new baby spends it's early days at home.
However, Robbie still holds Gary Barlow, Howard Donald and Mark Owen in high regard and he tweeted his own fans last week saying: "Go listen to Take That's new song These Days ..It's going to be massive .. RW x" The song sees Take That stepping out as a three piece act for the first time, after Jason Orange announced earlier this month that he was also leaving the group.
The star revealed that he had been battling with the decision for two years but finally gave the boys his blessing to begin recording without him earlier this year.
Gary revealed in a new interview that he, Howard and Mark begged Orange to return as recently as a few weeks ago, but have accepted his decision since. Barlow is currently making the most of his light schedule before album and single promo begins and yesterday he was spotted taking in all the tourist sights with wife Dawn in Venice.
He even hired the same boat that George and Amal Clooney took to their wedding recently.
(source: unrealitytv.co.uk)
Related posts: